28.02.2023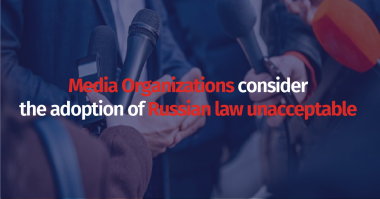 We, the media organizations that have signed the statement, strongly oppose the Russian bill initiated by the members of the Parliamentary Majority.
We firmly believe that this bill aims to suppress the critical voice and create an environment where media and public organizations can no longer uncover corruption, injustice, and poverty in the country.
This was proved by the outcomes of a similar law passed in Russia years ago - civil and media organizations were closed and journalists became the victims of persecution.
Adopting this bill will cause insuperable harm to the EU accession process of Georgia, which was clearly indicated in the statement of the High Representative of the European Union on February 24. Consequently, the submitted legislative amendment hampers Georgia's development and closes a window of opportunity.
We serve Georgian society and express deep concern about the future of our country. We are not going to work under this label. Accordingly, in case of adopting the Russian law, we refuse to register as "Agents of Foreign Influence." It insults our professional dignity.
Tbilisi:
Netgazeti.ge

Publika (publika.ge)

Indigo

Studia Monitor

Queer.ge

Dev.ge

On.ge

Tabula

Civil Georgia - civil.ge

MediaChecker

Project 64

Chaihana

Ufleba.ge

Association of Investigative Journalists (ifacts.ge)

Media Holding Commersant

OC Media

Media portal "Cactus," cactus-media.ge

JamNews (jam-news.net)

Online edition "Sova"(sova.news)

RealPolitik (realpolitika.ge)

"Mountain Stories" - mtisambebi.ge

Georgian News - sakartvelosambebi.ge

Journalism Resource Center - JRC

Georgian Alliance of Regional Broadcasters

Radio Tbilisi

Mtavari Arkhi

Accent (accentnews.ge)

Media.ge

ClickMedia - clickmedia.ge

FirstNews.ge
Shida Kartli:
www.qartli.ge

Radio Mozaika, mozaikanews.ge

TV Media Monitoring

"Georgian Media Group" - metalab.ge / feminism.ge

Dia TV

Neo TV - neotv.ge
Kvemo Kartli:
Community Radio Marneuli

Women's Community Radio WW

Kvemo Kartli Media - Qvemoqartli.ge

Marneuli TV

Radio Bolneli

TV4
Samtskhe-Javakheti:
Community Radio "Nori", nor.ge

TV "Borjomi",

borjomi.tv

TV9, tv9news.ge

Union of Journalists of Samtskhe-Javakheti

MediaSakhli - Sknews (sknews.ge)

Javakheti News Center, Akhalkalaki, jnews.ge

TOK TV
Adjara:
Batumelebi.ge

TV 25

Radio Citrus
Samegrelo:
Ninth Wave Broadcasting Company

Radio Atinati

Kolkheti 89

TV Egrisi

Radio Odishi +

Radio Harmonia

TV Odishi
Kakheti:
Voice of Kakheti (knews.ge)

Information Agency "Speqtri" speqtri.ge

Community Radio of Pankisi

TV Tanamgzavri

Radio Hereti
Imereti:
Kutaisipost (kutaisipost.ge)

TV Rioni

Imervizia TV

Mega TV

TV Zari

Radio Rioni

Radio Zari

Chemi Kharagauli
Guria:
Guria TV

Guria News

Guriis Moambe (guriismoambe.com)
Mtskheta-Mtianeti:
Agrogaremo TV


/The list is renewable/