15.03.2023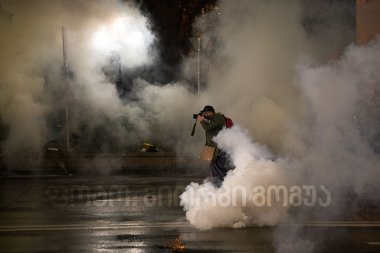 On March 8, 2023, Georgian media representatives suffered injuries during the rally dispersal on Rustaveli Avenue. Dozens of journalists and camerapersons were exposed to tear gas deployed by the riot police to halt a protest. Disturbingly, there was a case where a gas grenade exploded at the journalist's feet. While covering protests, the media representatives faced an assault and obstruction of professional activities by law enforcement officers, despite their knowledge about the professional duty of the journalists.
Law enforcement agencies abused and obstructed the following media representatives from their journalistic activities:
• Netgazeti's journalist, Mikheil Gvadzabia, was physically assaulted by a special forces officer who kicked and knocked the phone out of his hand after the journalist told him he was a member of the press.
• The special forces, by using force, obstructed Publika's reporters, Aleksandre Keshelashvili and Basti Mgaloblishvili, from their journalistic activities.
• The law enforcement officers attacked Formula TV's journalist, Tea Tetradze, and cameraman Nika Kokaia, interfering with their professional activities.
• They physically assaulted Formula TV's journalist and cameraman, Giorgi Kvizhinadze and Davit Mania.
• Mediachecker's editor, Giorgi Gogua, was also physically assaulted by law enforcement officers. The violence stopped after he explained that he was a press member.
• Formula TV's journalist, Salome Chaduneli, was verbally insulted and interfered with her professional activities.
• Formula TV's journalist, Nika Sajaia, was physically assaulted.
• Guria News's journalist, Merab Tsaava, was hindered in his professional journalistic activities.
(The list is renewable)
The Georgian Charter of Journalistic Ethics strongly condemns acts of violence against journalists, gross violations of journalists' rights, and interference in professional activities.
We call on the authorities to conduct an exhaustive and transparent investigation to identify and hold responsible law enforcement officials accountable for the offenses against media representatives.
The Charter will always protect the rights of journalists and the high standard of freedom of expression.