24.02.2022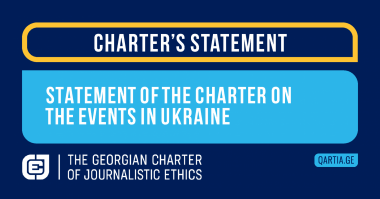 The Georgian Charter of Journalistic Ethics expresses solidarity with Ukraine and the Ukrainian people, media representatives, and colleagues in the Press Council of Ukraine.
The Charter thanks the journalists who work in the field and do their best to provide the public with checked and complete information on the developments after the Russian invasion of Ukraine.
At the same time, the Charter appeals to Georgian media outlets to be careful when covering current events in Ukraine, as such propaganda campaigns and disinformation are particularly active at this time, with numerous unverified reports, videos, and photos.
In a situation where the population of the country is completely focused on the events in Ukraine, it is important that the media make a redoubled effort to verify the information and use only reliable sources.
The Charter also appeals to the public not to be deceived by the misinformation spread by pro-Russian and anti-Western organizations and news channels operating in Georgia.