30.09.2021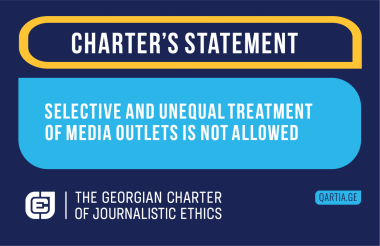 On September 29, 2021, Khatia Ghoghoberidze, Editor-in-Chief of On.ge, reported that the online media had not been invited to the opposition meeting. He said the reason was Covid-related regulations, although representatives of the television were present at the meeting.
The Charter of Journalistic Ethics believes that the unequal treatment of politicians towards the television journalists and online media is problematic.
The role of the media in the development of a democratic society is irreplaceable. Therefore, it is important that all media outlets are on an equal footing. Online publications, like TV media, work to inform the public. At the same time, it is noteworthy that the number of people in Georgia who receive information through online media is growing every year.
It is inadmissible to divide journalists according to by which platform they disseminate information. The Charter Council considers that restricting the activities of online media representatives by the opposition is incomprehensible and unjustified.
Unfortunately, this was not the first time. Journalists, both members and non-members of the Charter of Journalistic Ethics, often say that there are unequal working conditions for online media representatives at various events.
We urge all political parties not to discriminate against online media representatives and to create proper working conditions.