22.07.2021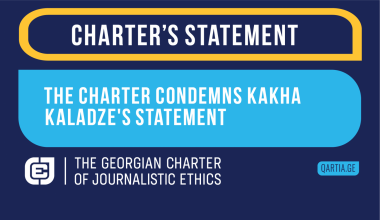 On July 20, 2021, Mayor of Tbilisi Kakha Kaladze compared the activities of the media to the actions of violent groups.
We have repeatedly expressed concern over the aggressive rhetoric of politicians, which creates an unsuitable environment in Georgia for the free work of media organizations and journalists. This has a negative impact on the safety of journalists. It was the statements of the Ruling Party that encouraged the violent actions against 53 members of the media on July 5.
The Charter urges the representatives of the authorities to refrain from encouraging the attacks on members of the media with their aggressive attitudes and to stop talking about restrictive norms of freedom of thought, speech and expression, to support media freedom and to switch to a business relations.