11.07.2021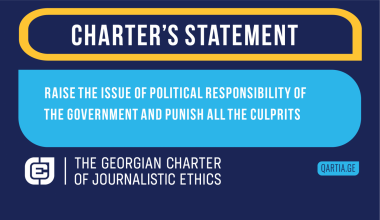 Aleksandre Lashkarava, the cameraman of TV Pirveli, died today, on July 11. He was one of the journalists injured during the events of July 5th. He was attacked in a group during the raid on the office of the movement "Shame". Aleksandre Lashkarava had severe injuries to his face and head. On July 5, more than 50 members of the media were injured in attacks on journalists by the violent groups on Rustaveli Avenue, several among them were injured severely.
The Georgian Charter of Journalistic Ethics believes that the authorities have not taken appropriate measures to prevent the violence, and in some cases, statements by high-ranking government officials have even encouraged the activities of the violent groups.
The Ministry of Internal Affairs failed to protect the journalists from physical violence on July 5, it could not ensure the safe operation of the media as well. Most of the facts of attacks on journalists, obstruction of media activities, and violence have not been investigated so far, and the responsibility of the organizers of the violent groups has not been outlined.
The violent groups continue to use hate speech in an organized manner with the media, which encourages violence. We require the following:
• Authorities shall take immediate steps to end organized violence against the media;
• Not only the participants of the violent action but also the organizers shall be punished;
• To respond effectively to all facts of organized media attacks;
• To start investigating messages containing threatening performed towards the media;
• Authorities shall immediately stop speaking hate speech to the media, follow the law, and protect the journalists;
• To bring up the issue of the political responsibility of the Minister of Internal Affairs and the Prime Minister.