09.07.2021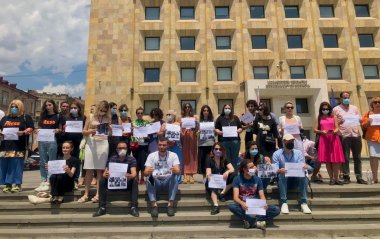 The cases of violation of journalists' rights in Georgia have reached a critical point. Hereby, we reiterate that the government has failed to guarantee the safety and security of media representatives as earlier attacks on journalists went largely unpunished.
On July 5 - 6, 2021, dozens of journalists and cameramen became the subject of large-scale violence. On a day when the March for Dignity, organized by Tbilisi Pride, was supposed to take place in Tbilisi, violent groups targeted media representatives, inflicted physical injuries and verbal abuse, and deliberately smashed their equipment to obstruct coverage.
Despite earlier warnings from the civil sector, the authorities did not take relevant measures to ensure the safety of the organizers of the March for Dignity or the media. The acts of violence were broadcast live. It was obvious that the insufficient police force was acting passively and failed to restore the order in the streets.
On July 5, prior to the cabinet meeting, the Prime Minister of Georgia, Irakli Gharibashvili, put the responsibility for the possible aggravation of the situation not on the counter-protesters, but on the organizers of the Tbilisi Pride, and called them not to hold the march on Rustaveli Avenue. During violent attacks, the only protection mechanism applied by the Ministry of Interior was withdrawing the journalists from the coverage scene.
The attacks against the media continued on July 6, 2021, in the course of the solidarity rally in Tbilisi, when the violent groups attempted to disrupt the live broadcast of Formula TV.
According to the official information, a total of 53 representatives of more than 10 media outlets were injured. Some of them were admitted to the hospitals with severe injuries and are under medical care up to date.
In response to the multiple acts of violence, the Ministry of Internal Affairs of Georgia has detained only 12 individuals under the charges of illegal interference with journalistic activities, while the journalists were able to identify more attackers in the available video footage.
In the light of the unprecedented scale of violence against the media and in order to protect freedom of speech and expression and other fundamental rights in the country, we appeal to the Government of Georgia:
To conduct a prompt and efficient investigation into the cases of violence against the media representatives injured on July 5 - 6, 2021, as well as to bring the perpetrators to justice
To cease using hate speech against the media and openly support the freedom of journalists to carry out professional duties
We appeal to the Parliament of Georgia:
To hold an ad-hock hearing of July 5-6 events in the Parliament, and to evaluate the efficiency of the steps taken by the government to protect the citizens
To condemn the calls and acts of violence
To issue the statements in favor of freedom of expression and openly support the freedom of journalists to carry out professional duties.


Signatories:
Alliance of Regional Broadcasters - AB
Georgian Charter of Journalistic Ethics
Georgian Democracy Initiative - GDI
Georgian Regional Media Association - GRMA
Georgian Young Lawyers` Association - GYLA
International Society for Fair Elections and Democracy (ISFED)
Institute for Development of Freedom of Information -IDFI
Liberal Academy Tbilisi
Media Club
Media Development Foundation
Media Rights
Open Society Foundation OSGF
Rights Georgia
Small and Medium Telecommunication Operators Association of Georgia
Transparency International Georgia
TV network