05.07.2021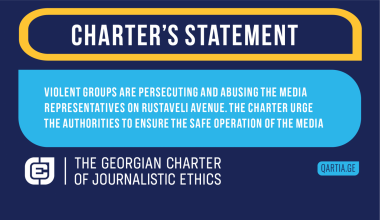 According to the reports, the violent groups on Rustaveli Avenue physically and verbally abuse the journalists. Media outlets report that members of the violent group attack journalists, swear and force them to leave the area.
According to "TV Pirveli", the equipment belonging to the broadcaster was damaged;
According to "Formula TV", Guga Dvalishvili, a journalist of the Public Broadcaster, was deprived of a microphone and thrown out of his hands, and the cameraman was physically abused;
Giorgi Gabunia and Lekso Khomasuridze - another crew of "Formula TV" was beaten;
The sticks were thrown to the "Rustavi 2" journalists;
Mako Jabua, a journalist of "Tabula" wearing a T-shirt with the caption "Press", was attacked and beaten with the cudgel at her head;
Luka Pertaia, a journalist of "Netgazeti" was verbally abused;
Tamta Kakhaberidze - a journalist of "On.ge" was attacked;
According to "Palitra News", their media operator was beaten, he had injuries on his face. Also, the equipment belonging to the broadcaster was damaged;
According to TV "Imedi", the protesters physically confronted their journalist and cameraman;
Two journalists from "Radio Liberty" were injured;
According to the "First Channel", their cameraman Ilia Tvaliashvili was injured;
Alexander Lashkarava, the cameraman of "TV Pirveli", was beaten and his equipment was broken;
According to the Adjara Public Broadcaster, their journalists was attacked by radical citizens. Journalist Tiko Susareishvili was injured;
"Mtavari Channel" journalists Dea Mamiseishvili, Irakli Bakhtadze, Nino Gazdeliani, Datuna Akhaladze, Anri Jokharidze, Keta Tsitskishvili and Tornike Barnabishvili were injured;
According to "Guria News", their journalist Merab Tsaava was confronted at the rally;
Journalists of TV "Rustavi 2" Mariam Kumsishvili, Marika Gotsiridze, Giorgi Pertia, Salome Bokuchava, Zura Managadze, Beka Atabegashvili, Nikoloz Urushadze and Shota Sikinchalashvili were injured;
"Interpressnews" photo correspondent Giorgi Nikolishvili is injured;
Formula TV journalists Nino Vardzelashvili, Rati Tsverava, Luka Khachidze, cameramen Levan Bregvadze, Nikoloz Kaliashvili, Zaza Kapanadze, Giorgi Maisashvili, photographer Vakho Kareli were injured.
According to our information, about 40 journalists and cameramen were injured. A list of them can be found

here

. (a list may be updated)

The Charter urges the Ministry of Internal Affairs to protect media representatives from illegal interference and violence in their journalistic activities.
The Charter of Journalistic Ethics urges the government to protect the safety of journalists and create appropriate working conditions for the media in the course of their professional activities so that citizens have the opportunity to receive information about the current processes.
The Charter of Journalistic Ethics will always protect the rights of journalists and the high standard of freedom of expression.
​