27.12.2016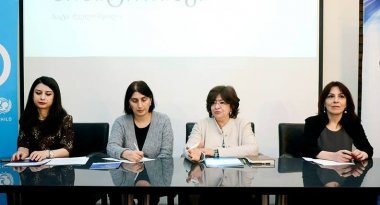 Tbilisi, 22 December 2016. Media reports on children have increased in comparison to the last year; in-depth reports on children constitute only one per cent of all the media reports on children; unnecessary blurring of children's faces often contributes to stigmatization of children – these are the results of the media monitoring conducted from April to December by the Charter of Journalistic Ethics, with UNICEF support.
The percentage of stories where children are asked about their opinion increased from 12 to 35. Media has reported on the issues of children living in poverty or having health problems as charity stories trying to mobilize specific support and not highlighting the systemic gaps in relation to these issues.
The media most often reported on education-related issues, although they focused mainly on specific events rather than in-depth analysis of the topic. After education, the most frequently covered topics were criminal and charity. Domestic violence received the least attention.
As for ethical standards, in general, the media have made an effort to observe children's rights and ethical norms, however, in some cases journalists and editors have difficulty in finding an appropriate format and often blur children unnecessarily.
The novelty of the collaboration was that first time children's programmes were assessed. It appears that these programmes cannot provide children with interesting, diverse and age-appropriate content.
The Georgian Charter of Journalistic Ethics also conducted a series of trainings to improve reporting on children within the framework of the project. The trainings were conducted in the offices of the following media outlets Rustavi 2 morning show Dila Mshvidobisa Sakartvelo (Good Moring, Georgia); the Ajaran Public Broadcaster's Information Service; Imedi's Dgis Shou (The Day Show), and the Kutaisi-based website, Kutaisipost.ge. Trainers Nino Japiashvili and Zviad Koridze spent three days with each media organization, discussing their reporting on children, the ethical issues encountered, and planning for new stories.
Other activities of the project included the development of specific guidelines and case studies as well as meetings with schoolchildren.
About the monitoring
The aim of the media monitoring was to study articles on children in electronic, online and print media and analyze their compliance with professional and ethical standards.
From 1 April to 1 December 2016 the charter's monitors studied over 4,000 reports, articles and news briefs that directly or indirectly concerned children. During the monitoring, both quantitative and qualitative methods of analysis were used.
The final report of the media monitoring is available here