29.09.2017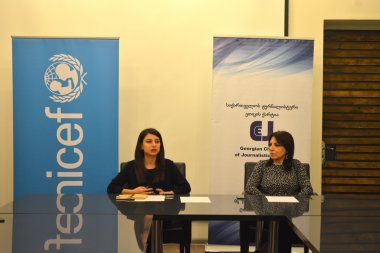 Monitoring revealed that reports on children are particularly increasing in online media although most of them represent brief information or press-release. As compared to the past years, TV media has improved reporting indicator as they most often run stories on children and offer in-depth material. Representing children in capacity of respondents still remains a problem.
As for ethical standards, in general, the media have made an effort to observe ethical norms and not to violate children's rights, however, there were some cases when media failed to meet the standards – disclosed identity of accused minors, in pursuit of sensation unethically reported cases of suicide committed by teenagers. There were cases when children were stigmatized on various grounds.
Within the framework of joint program of UNICEF and Georgian Charter of Journalistic Ethics a series of trainings was conducted to improve reporting on children. The trainings were conducted in the offices of the following media outlets: TV company Pirveli, news service of Gurjaani, Pankisi community radio, livepress.ge (Zugdidi) and Resource Center of Journalism. Trainers Nino Japiashvili and Zviad Koridze spent four days with each media organization, discussing materials on children that had already been prepared, ethical dilemmas identified in the working process and planning for new stories.
Within the framework of the project discussions on media literacy and children's channels were held, media representatives were consulted on techniques of covering children-related issues and verification of information. To discuss these topics, the participants of the project met students, representatives of higher education institutions, managers of children's channels, NGOs.
About the monitoring
The aim of the media monitoring was to study articles on children in electronic, online and print media and analyze their compliance with professional and ethical standards.
From 1 April to 1 December 2017 the charter's monitors studied over 11,000 reports, articles and news briefs that directly or indirectly concerned children. During the monitoring, both quantitative and qualitative methods of analysis were used.