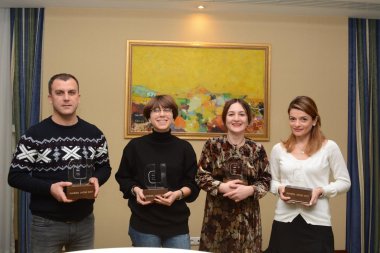 Charter Prize 2017 At the Annual meeting Charter awarded winner journalists of 5 categories in Charter Prize 2017. According to the jury following works were considered the best:
The best article – Nino Lomadze, "Talk to me" (Indigo)
The best journalistic investigation – Tskriala Shermadini, "Hardships of Georgian Sheep" (Studio Monitori)
The best multimedia – Mariam Jatchvadze, Tamar Mshvenieradze, "Africa in Tbilisi" (Indigo)
The best video reporting – Eka Kevanishvili, "Choice of Maria" (Radio Tavisupleba)
In-depth reporting about children's issues – Gela Mtivlishvili, "In absence of water, toilet and bath – how do children live in the boarding-schools of Pshav-Khevsureti" (Mtis Ambebi)
The Special certificate of Charter and UNICEF was awarded to Kristine Shanava, for the project "Parent's Diary" in the show "Personal doctor – Mari Malazonia" of the public broadcasting channel. The project supported the reduction of existing stigma in society towards children with disabilities.
The contest in the first four categories was supported by IREX. The prize for in-depth reporting about children's issues was awarded by the Georgian representation of UNICEF.